Rani Mukherjee Sizzles As Grand Marshal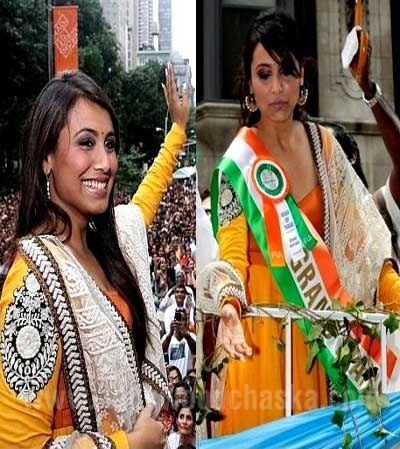 The dusky Bollywood beauty Rani Mukherjee is taking out time from her films and has been enjoying her travel abroad in United States. Recently the bong actress was seen having a splendid time in New York. Rani has been felicitated by NYC and was looking stunning at each and every event she attended.
While every year, the Indian Independence Day Parade in NYC ropes in a Bollywood representative, it is the first time that a Bollywood actress will be seen lighting up the Empire State Building in green, white and orange.
Rani Mukherjee became the first Bollywood actress to be given an honour to light up New York's Empire State Building on the occasion of the Indian Day Parade celebrations.
The bong actress also participated in the parade as the grand marshal. This grand event is regarded the largest Independence day celebration outside India. Rani was welcomed by over two lakh fans. Rani screamed to the crowd, "I feel as if I'm in India today."
The gorgeous Rani also rang the opening bell at NASDAQ and was seen at the 'My Earth, My Home' event.
Rani was looking stunning in outfits of Sabyasachi anarkali and Manish Malhotra outfits. While her chunky earrings and her make-up are just perfect.
http://www.bollywoodchaska.com/news/Rani-Mukherjee-Sizzles-As-Grand-Marshal_7538.html