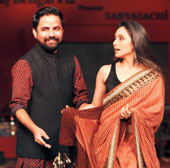 May 2010: Aishwarya Rai Bachchan makes waves in a Sabyasachi sari on the Cannes red carpet.
May 2011: Sabyasachi makes waves on the Cannes red carpet with Rani Mukherjee in a Sabyasachi, of course, by his side.
The Calcutta connection at the famed Festival de Cannes just got stronger — and more fashionable. On May 18, the city's most celebrated designer will take France's most celebrated red carpet along with his BFF (best friend forever). Yes, that's Rani Mukerji, who wore the Sabya look in Black, No One Killed Jessica, Baabul and Laaga Chunari Mein Daag, and with whom she shares more than just a Bong connection.
Mr M & Ms M have been picked by Chivas as their designer-muse duo to walk the red carpet. Last year, Rohit Bal and Deepika Padukone were the chosen ones. While Rani is presumably quite poised, preened and pouted about her Cannes debut, Sabyasachi can't stop seeing the funny side of things. "It's hilarious. Such a classic case of beauty and the beast!"
Having said that, Sabya is "extremely proud" to be a part of Team India at Cannes. "I think it is fantastic for us to be invited. The number of Indians going to Cannes is increasing and that just makes you realise the growing importance of the Hindi film industry," he tells Metro.
It's pointless to ask 'who' the two will be wearing on the red carpet, but the 'what' remains to be seen. The designer has decided to don a black kurta with a sherwani over white churidars and black Oxfords. "It definitely had to be something Indian, something simple, something khadi and in conservative colours like black and white." While describing his outfit to Metro, he improvised an addition and asked his factory to make him a "nice" embroidered shawl that he "might or might not" carry.
For his muse-in-arms Rani, it will be a Sabya sari and her look will simple, classic and oh-so-retro. Though the details are under wraps, we do know that four net saris are being made at the designer's Topsia workshop. A look test will be done later in Mumbai. "Since net is thin and flimsy, it won't overwhelm Rani's petite frame. The look will be an eclectic balance of conservatism and sexiness. She is a very beautiful woman and anything overdone doesn't work for her. But I would really love to add a little bit of Frida Kahlo [the Mexican artist being his "perfect muse"] to the look. Maybe the hair…"
Though Sabya appears shy and almost reluctant during the customary bow at the end of each catwalk showing, the red carpet is not making any butterflies flutter in his stomach. Yet. "I am only interested in who all I might be able to spot!" The special someone the weaver of dreams is hoping to bump into? Madonna. "Oh, that would be such a dream!"
http://www.telegraphindia.com/1110510/jsp/calcutta/story_13960239.jsp