Rani Mukerji in no mood to play 'Mafia Queen'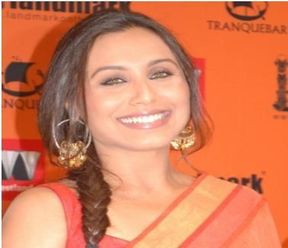 Rani Mukerji seems to be extremely choosy about her films. And what makes us say so is the fact that she ignored the idea of being a part of a film based on Hussain Zaidi's latest book 'Mafia Queens of Mumbai'. The book comprises of short stories of different women mafia in the city. What compounded to the amazement was when she refused to do the role even after Vishal Bhardwaj showed interest in acquiring the rights of one of the short stories from Zaidi to make a film on it.
On the occasion of the launch of 'Mafia Queens of Mumbai', Rani turned a deaf ear to the question of stepping into the shoes of female mafia for the film. She instead went on to say, "I haven't yet read the book but I'm sure Zaidi is brilliant as I'm a great fan of 'Black Friday' the novel as well as the movie."
Rani in fact didn't show a slightest interest even when Vishal expressed his desire to make a film on one of the short of stories by saying, "I'm totally fascinated with Zaidi's writing and cinematic vision in the book. The most appealing fact about his writing is that he without being judgmental, puts just facts in the most interesting manner."
Vishal also gave a hint of roping in Zaidi as a screenplay writer for his film. But alas, that too didn't impress Ms. Mukerji much as she remained in her denial mode.
http://daily.bhaskar.com/article/ENT-rani-mukerji-in-no-mood-to-play-mafia-queen-2076544.html