Rani Mukerji: I Won't Deny I'm In Love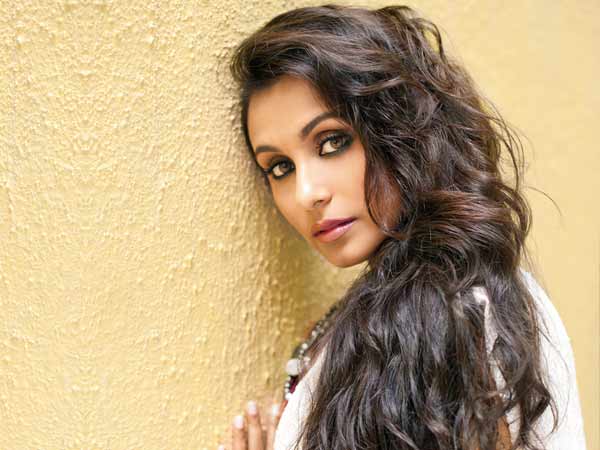 Acting wasn't a passion for Rani Mukerji, when she burst on to the Indian screens in 1997. It was a job she had taken up as anyone does after college when given her first job. She took this job very seriously because she didn't want to let her parents down. She also took it up because she wanted to pull her family out of one of the rockiest patches — financially and emotionally — ever. Fifteen years hence and innumerable awards and accolades later, her life looks like a fairy tale or a Bollywood script that couldn't have been written any better. In an industry where the shelf life of an actress is getting shorter by the month — even as actors rule the roost for two decades or more — Rani has seen her fair share of ups and downs that have taught her valuable lessons. In the last few years, she has faltered in terms of choice of films. But one thing that she hasn't forgotten is to do her job well, i.e. to act. She takes it up as seriously as she did during the mahurat shot of Raja Ki Aayegi Baraat as a 16-year-old.
But today, there's more passion than ever, and a mastery of her craft that compels you to appreciate her skills as an actress, even if you aren't her die-hard fan. After the success of No One Killed Jessica early last year, she is awaiting her next two releases this year — the Reema Kagti-directed thriller Talaash, with Aamir Khan and Kareena Kapoor and Anurag Kashyap's quirky comedy Aiyya directed by National Award- winning director Sachin Kundalkar. We ask the 'Queen of Bollywood' about the journey during which her job turned into her passion, the girl Rani morphed into the woman who rules hearts and, of course, a certain someone she "is dating".
What are you doing these days?
"I've just returned from Lonavala where I was shooting for Aiyya. A few songs are yet to be shot."
Has the industry changed since you joined films?
"Immensely. Nowadays, the first look of the film is almost as important as the film itself. I'm eagerly waiting for the promos of Talaash, which are to hit the screens soon. It's going to be released in June. And the fact that I'm doing two films that are as different as they can be from one another in the same year, speaks volumes about how times have changed. It's a far bigger, more diverse- than-ever industry that's gone global in terms of its scope in every possible way."
Did you always want to become an actress?
"Arre, my joining films is a poori filmi kahaani. Though I technically come from a film family, my father had stopped making films even before my brother and I were born. So I did not really grow up in a filmi environment. And when I was growing up, becoming an actress was still quite a taboo. And you may not believe this but even my father did not want me to join films. Salim (Akhtar) uncle, who was very close to my family, came with the offer of Aa Gale Lag Jaa in 1994, but my father was aghast. He immediately turned it down. In the meantime, I joined college (SNDT, Juhu) pursuing Home Science. Those days the 'in thing' that most girls were going after as a career choice was jewellery designing and interior designing. Now, I didn't have the money to pursue a Rs 3 lakh course to make a career. And then Salim uncle came back again to talk about my entering films. I think he must have been pretty desperate to launch a new actress. This time, he managed to convince my parents."
How did he manage that?
"(Laughs) When Salim uncle came to me and said he wanted me to act in his film, I started crying. I thought he was making a pass at me…."
Why on earth…?
"Because I was daft. And the fact that in those days, acting was still considered a taboo for the girls in my family. My mom's side was okay with it, as my aunt (Bengali actress Debashree Roy) is an actress. In fact, she had kept it from me till then, but she was seriously harbouring dreams of me becoming an actress. My father was still adamant about me not joining films. You know that typical MCP behaviour of probably all fathers from a middle class Bengali household—'Kya? Ghar ki ladki filmon mein kaam karegi?' But by that time my second cousins, Kajol and Sharbani, had entered films. And that sort of paved the way for me too. My mother and father still fought over it for quite a few days before he finally agreed to give me at least one shot at it — of course, with the strict clause that my mom will accompany me everywhere."
And you? Did you know anything about acting by then?
"I wish I could show you the recording of my first screen test. You will literally sprint away from the room thinking 'who is this horrible actress'?'"
What was so bad?
"Those days, I used to be quite chubby. And Salim uncle, who had done Baazi with Mamta Kulkarni a few years ago, somehow fished those shorter-than-short and tighter-than-tight clothes that looked completely hideous on me. And to top that, I had to act! I was a shy kid with inhibitions galore. It was some courtroom scene and when someone gave me the sheet with dialogues, I was dumbfounded. I saw all these famous dialogues from famous films which I had to say in front of the camera. My understanding of films was just as much as any young girl who watches Bollywood films. I had no idea about the whole process of filmmaking, about dialogue writing, scripts, screenplay etc. I had probably gone to two or three film shoots in my childhood. And even when on a shoot as a young girl, I would find actors just giving their shots and sitting in their vans getting bored in-between shots. So when the whole picture opened up in front of me about the reality of becoming an actress, I was petrified. And my screen test was a disaster. I came back crying and said 'I would not be able to do this — anything but acting!'"
Then?
"But Salim uncle came back and said I had a photogenic face and the camera captured me quite well, which is very important for any actress or actor. So that was one glimmer of hope in my otherwise nightmarish experience. My mother sat me down that night and told me, 'opportunity knocks at your door just once, take it up. What's the worst that could happen? You'll fail at your effort? We are there after that. But at least you'd know you have tried, and won't regret leaving this golden opportunity'. And though it was never told to me, but I knew my family was going through a financial crisis. And there was also tension in the family because of a lot of bickering between my father and his brothers. So I decided that I would work very hard (there was a month left for the shoot of Raja Ki...) and somehow give myself one good shot, even if it didn't work out in the end. I took it up as a job that just had to be done."
What happened in that one month for you to give that spirited performance?
"My father took me to join Roshan Taneja's acting classes. Now, Mr Taneja had two courses, one was a year-long one and the other a three-month one. I had to learn all the acting I could in one month. Kaise hoga? I told Mr Taneja I would come in the morning and evening for a month and be a dedicated student. On the very first day, my dad took took me to him, and said, 'Please teach my daughter how to act'. Mr Taneja said, 'Acting isn't a tablet. You can't pop it and become an actress. It has to come from within you. It's either there somewhere deep within you or it's not there'. That statement of his stayed with me for a long time — that you can't mug up acting. You can't learn it from books. It was my first lesson.
But in the classes, I was at sea. I didn't know where to start. Thankfully, one good thing that happened was that the improvisation classes — where we all had to face the camera and say whatever came to our mind and enact a scene — sort of broke through my shy exterior. In any acting class, there are always a lot of faces looking at you from all corners and that's done on purpose so that the person drops all his/her inhibitions.
On the day of the mahurat, when I was called to give my first shot, I thought, 'yaar, I can't let my parents down. I just have to give it my best'. And then, when I walked into the shot, I was this confident, fiery ball of energy, spouting dialogues like I had never imagined I would. I haven't looked back since that day."
And how did this job eventually become your passion?
"That happened later, you know, when I started getting fan mail, slowly. Those days I was doing a lot of films. But my fans kept on writing that they were not happy with me. So I wondered 'Arre, I am toh working 72 hours at a stretch, not eating right, not getting enough sleep, giving my best to each shot, so what was going wrong?' Then I realised after Ghulam and Kuch Kuch Hota Hain, my fans' expectations of me were higher than my own. That's when I learnt my second lesson as an actress — that it's not just performing, I also had to be savvy enough to know good scripts from the not-so-good ones. So, I started getting more involved in the whole process; understanding films beyond just the acting part. Somewhere during this whole process, acting became my passion."
Coming back to the present, what went wrong in the last couple of years before No One Killed Jessica last year? You had some consecutive flops after a spate of hits, and suddenly you just vanished...
(Snaps her fingers and says with a smile) "Don't worry, from this year you'll see me in two films every year at least. Coming back to your question, I had seen failures before but when those three films (Laaga Chunri Mein Daag, Thoda Pyaar, Thoda Magic and Dil Bole Hadippa) failed in quick succession, it affected me in a way no flop had affected me before. I didn't know what I had done wrong. My confidence was completely shattered. All the movies I had taken up failed to make a mark with audiences and critics alike.
Maybe the critics thought we've praised her enough, now it's time for her to fall a bit hard, so she steps her game up (smiles). I also think I was plain unlucky. The audience has little memory of what you have done before or are capable of doing. What matters is what's happening today. So three flops probably told them 'Rani has worked so well in the last few years, maybe it's time she took a back seat and settled down'."
And are you settling down?
(Smile that says read-my-expression-if-you-can; Yours Truly interprets it as elusive) "When I plan to settle down, I will announce it to the world. Marriage is an occasion to celebrate. I shall celebrate it when it happens, letting everyone know about it."
What about the rumours of your relationship with Aditya Chopra?
"I have been linked with so many of my co-stars and this Aditya rumour has stayed with me for the longest time. So, this time I'm going to give you the clichéd answer that no journalist wants to hear, 'No comments'."
Are you dating someone?
"Yes, I am dating, but that's as far as I'm willing to talk about my personal life."
People, your fans especially, want to know about your personal life? They want to know if marriage is on the cards…
"They will when the time comes. Right now I have two movies coming out, which I'm very excited about. And that's what I'm going to talk about."
Are you saying nothing is serious as far as your dating goes?
"See, in a relationship there are two people involved. Since I'm a public figure, if I start answering questions, it'll open the door for more questions, speculations, gossip… and then it comes to a point where everyday someone has something to say about your personal life. It's not fair to the other person. I don't mind a bitchy comment about the way I dress or my films not doing well, but a comment on what I consider to be my private space is not welcome at all."
Are you a romantic?
"I'm a born romantic. I romanticise everything in life. My personal life is full of love and romance. God's given us one life. You should romance it. It's not always nice and cool to be practical and logical."
What have your relationships/heartbreaks taught you?
"I haven't been in a lot of relationships. Heartbreak definitely teaches you to be a better actor. Don't they say, an artiste always performs better when he or she has experienced heartbreak? (Laughs) Okay, that was a joke. I do not give that much importance to men. All my heartbreaks since childhood have been because of close friends, not due to the men in my life."
Seriously?
(On a serious note) "Heartbreak, anger, frustration… if you can overcome these emotions, you become a better person. If you're a person of substance, you will overcome your bad times. Who wants to be a loser?
Will you marry an actor?
"No, two megalomaniacs can't exist in the same house. We'll probably end up killing each other."
What's the best thing about being in a relationship?
(Enigmatic smile again) "That you can hide it. And the best part of getting married is that you can announce it to the world."
What about the fact that today the shelf life of actresses is very low? Would you ever decide to do an item number? Or attend more red carpet events since visibility is so important these days?
"No. Because for me it's important to cement an impression of my work. Acting is what I do best. It's not difficult to be in the public eye. Go anywhere and you'll find the media. See, I am not trying to sound high and mighty here. If I was being launched today, then I would do it exactly as the newcomers are doing it these days. But after 15 years in the course of which I have firmly established my credentials as an actress, I plan to only focus on acting. But if friends call me, I'll be there. Like I went to Farah's (Khan) house-warming party recently. Aamir (Khan) and Kiran (Rao) had a son and going there was important for me because he is someone who is very dear to me. As are Shah Rukh Khan and Karan (Johar) and a few other friends when they call me."
Have you spoken to Abhishek after he became a father?
"We aren't in touch on the phone, but whenever I come across him, I will definitely congratulate him. It's great news."
What did that low phase in your life teach you?
"When I was joining films my dad had told me something: 'Don't ever be disheartened with failure and don't be over-excited with success'. This is the most important lesson to be learnt in any actor's life."
But can you really separate your emotions as professional and personal in your mind? Hurt is hurt, disappointment is disappointment…
"That's where your family and your strength as an individual come in. I am very close to my family. And I have other interests, like my other big passion is baking. I started baking in one of my very low phases in life. I find it therapeutic. Like a typical Bengali family, we all like desserts. In fact, right after this interview I have to go and bake two cakes for a friend whose birthday I forgot!"
What cakes are you baking?
"Strawberry and Dutch Truffle. With lots of icing."
So, would we see a Rani Mukerji patisserie soon?
"You could (smiles). I am very serious about going to Paris or Chicago for a fulltime patisserie course."
Any other venture in mind? A lot of actresses are starting their own fashion lines. Or maybe even film production…
"No. The only thing I will be producing next is babies. No other production happening with me."
Is there a lot of bitching/backbiting in the industry?
"There is, but that's true of any industry where over-competitive minds are always at work. But it is blown out of proportion in ours because it's the glamour industry."
Have you been at the receiving end of bitching?
"People say bitchy things about other people to feel good about themselves. Like I said before, I come from a middle-class Bengali family. Whatever I have got in life has been a huge blessing. I have never gone after something that's not mine. Today, I am sitting at my office in Juhu, overlooking the sea. I used to live in a shack before. I always used to travel in rickshaws. Today, I have a Mercedes. But if I start thinking, 'I have a bungalow, why not a building in Bandra tomorrow? Or now, I have a car so why not a yacht next?' My life will be very difficult. My mind doesn't work that way. The only ambition I have is to pick up scripts that are interesting and give a stellar performance that'll be etched in the audiences' and my fans' minds."
http://idiva.com/news-entertainment/rani-mukerji-i-wont-deny-im-in-love/10254